Galaxidi Rooms Nostos
Sweet dreams in comfort and tradition. Enjoy the romance, serenity and comfort
All rooms of Nostos are elegantly decorated with iron beds draped in romantic blankets, they are is comfortable with a calming effect and envisage the past. Our spacious bathrooms are equipped the majority (4 out 6) with jacuzzi and natural Greek toiletries of the Greek company Apivita. Rooms are provided free air conditioned in summer and heated in winter. We paid special attention to comfortable sleep by choosing the mattresses of high quality offering you a sense of well-being.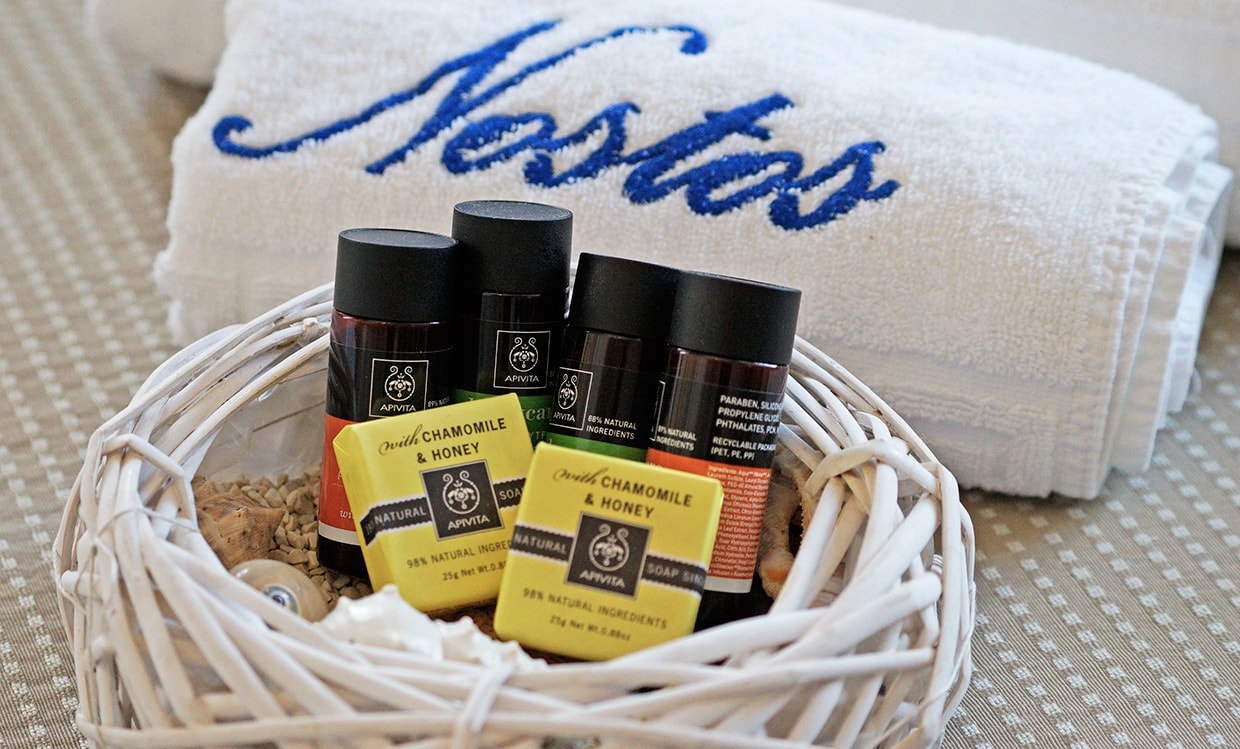 Cleanliness
Cleanliness is essential, so all the rooms at our hotel are cleaned daily and towels are changed and every other day linen are changed.
Hospitality is our first priority. We will do everything in our power for the best accommodation.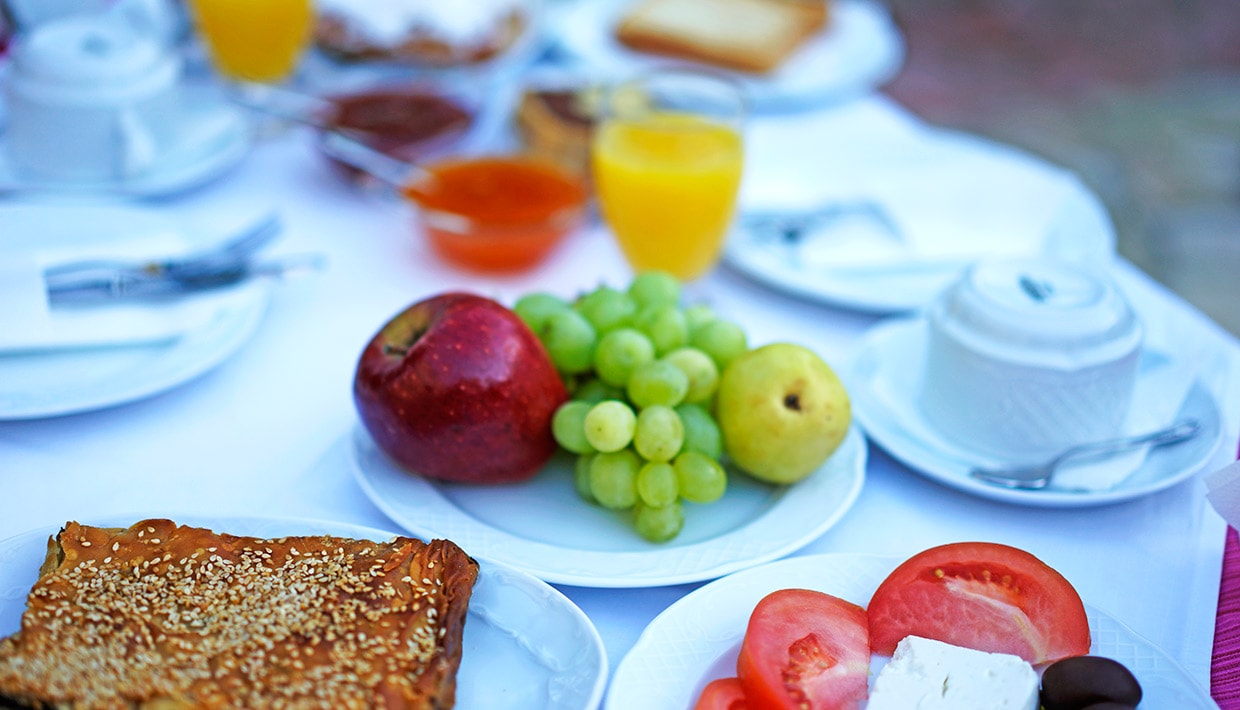 Our famous traditional breakfast
Every morning we serve breakfast from 7:45 – 11:00 with lots of love entirely made by the hands of Mrs. Maria. Our breakfast includes:
Coffee (filter, instant and Greek), tea, milk
Cereals
Fresh bread and pastries, fresh products from our traditional family bakery that we run -Papalexi Bakery – and is located opposite the hotel.
Homemade cakes with local fresh ingredients to start your day with energy
Homemade jams (2 kinds of jam with seasonal fruit from our yard), butter and margarine
Fresh orange juice
Honey and yoghurt by local producers of the area
Cheese and cold meat
Fresh eggs (hot and gold)
Specialties of Maria, egg-cheese pie and spinach pie, based on her grandmother's recipes
Tomatoes from our vegetable garden
Olives of our produce
Fresh fruit
Breakfast is served in the courtyard on a sunny day. For those cold winter days breakfast delight takes place either in the small reception hall with the fireplace, in one of the tables around the old well and stone cistern or in a specially designed space in the basement decorated with antiques.
Customer service
We are available reception hours (07:00-23:00) for any information you may need about the hotel and Galaxidi. We provide guide maps of the city, tourist information and suggestions about exploring our historic region (Delphi - Parnassos).
In addition the hotel offers:
Air conditioning in all rooms
Central heating in all rooms
Access to wireless internet (Wi-fi) in all areas
Room Service 08:00-20:00
16hour Reception Desk
Express check Out service
Tablet available for our guests
Wakeup call
Dry Cleaning / Washing / Ironing with additional charge
Provision of daily newspapers and magazines
Turndown Housekeeping Service in the noon (Bed Linens change, towels change, Coverlet storage, waste bin change) on request with the staff member at the reception
Breakfast can served in the room upon request
Εarly breakfast service. Please Inform Reception Desk
Breakfast Bags, upon request
A boat ride during summer season can be organized with our boat after consulting Mr. George.